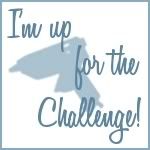 I found Living with Lindsey's blog yesterday through Googiemomma's blog...I know, I'm like a blog junkie now...

ANYWAYS, I thought I would give it a shot. You can check out the rules here if you'd like to jump in, too. The deadline is March 25th (to be linked up at her blog).

Basically (and this is my interpretation of the rules, not the

official

rules), you have $5 (excluding tax) to spend at the dollar store (examples: Dollar Tree, Deals, Everything's a $1, etc...). Then you re-make it into something fabulous for Spring. You are allowed to use already-owned items (WHEW!! I can maybe break out those stamps I bought yesterday?!?!), take a pic of your completely fabulous re-make, blog about it, then link up with McLinky @ Lindsey's site.

There will be preliminary judging, then the Top 5 will be up for the Reader Vote. And, yes, there is a prize...but she hasn't shared, yet...just that it's fabulous!!

So, are you in?